Posted on
LMNOLA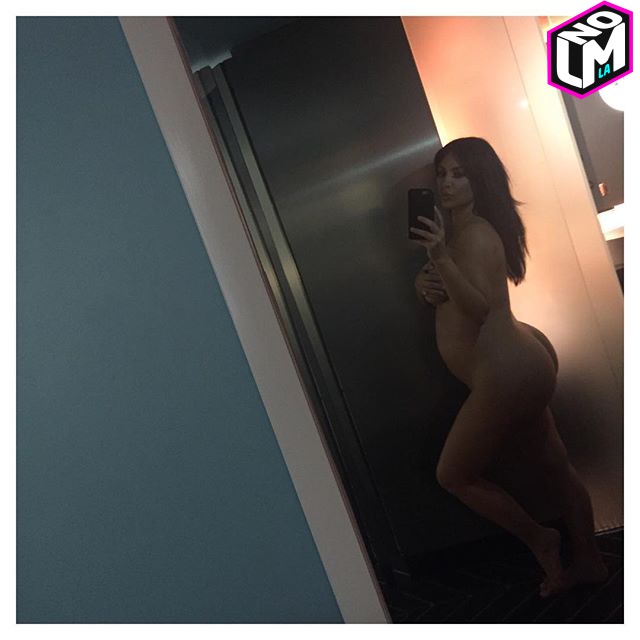 KIM KARDASHIAN has taken a swipe at critics of her bulging baby body in the best way she knows how – by offering them a naked 'selfie'.
Responding to online remarks suggesting she is faking her second pregnancy, Kanye West's reality TV star wife hit Instagram.com on Tuesday (11Aug15) and posted a revealing new shot of herself.
She added the caption: "First they say I'm too skinny so I have to be faking it… Now they say I'm too big so I have to be faking it… Some days I'm photographed before I eat & look smaller, some days I've just eaten & I look bigger. It's all a part of the process."
In the shot, Kim covers her breasts with one hand as she poses from the side in a mirror.
She continued: "I think you all know me well enough to know I would document the process if I got a surrogate. Everyone's body is different, every pregnancy is very different! I've learned to love my body at every stage!
"I'm going to get even bigger & that's beautiful too! I'm blessed to even be pregnant & even luckier to not have preeclampsia (a pregnancy complication characterised by high blood pressure) as far as I know, so I don't have the swelling issue this time!
"They also say your body carries a boy different than a girl! Whatever the case may be I'm grateful to God for this miracle & no matter what rumors or comments you throw my way this time they truly don't affect me!"
Kardashian and West are expecting a son in December (15). They are already parents to two-year-old daughter North. (KL/WNNOW/MT)
Credit :WENN.com
Photo/Writer: Sid West, @lmnotweets (Twitter), lmnogram (Instagram), lmnola.com (Website)