Posted on
LMNOLA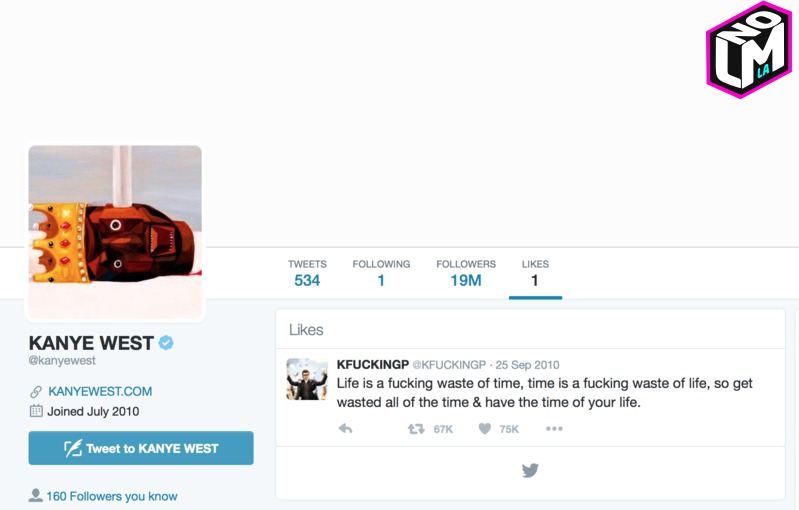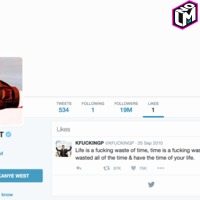 If you haven't noticed — Kanye West's thumbs are working overtime this week. Saint and North's dad went on twitter and blew everybody's mind. Telling the Blue-Birdie Tweet world that he is in debt $53 Million dollars and needs help. But after careful evaluations from Forbes and other financial websites, those figures aren't as mind blowing as people might think. Possible bad investments, lavish spending, you get the picture.
After realizing that Yeezus has tweeted 26 times in a span of one hour (roughly 14 hours ago) pleading to white publications to not comment anymore on black music, asking for financial help, to thumbing "Shut the fuck up and enjoy greatness" – "I wanted the world to know my struggle" – "I don't have to be cool"… Ok we get it, we're not worthy.
So here's my realization. After 534 tweets by Kanye he has only liked 1 tweet and 1 tweet only, 5 and a half years ago.
Twitter handle @KFUCKINGP. Bio: Legendary pro ball player working towards my comeback. Yes, Kenny Fucking Powers. Why? Carefully analyze those words, yes it is beautiful poetry.
Is there anymore reason to question Kanye's genius?
Photo: Twitter
Writer: Sid West, @lmnotweets (Twitter), lmnogram (Instagram), lmnola.com (Website)