Posted on
LMNOLA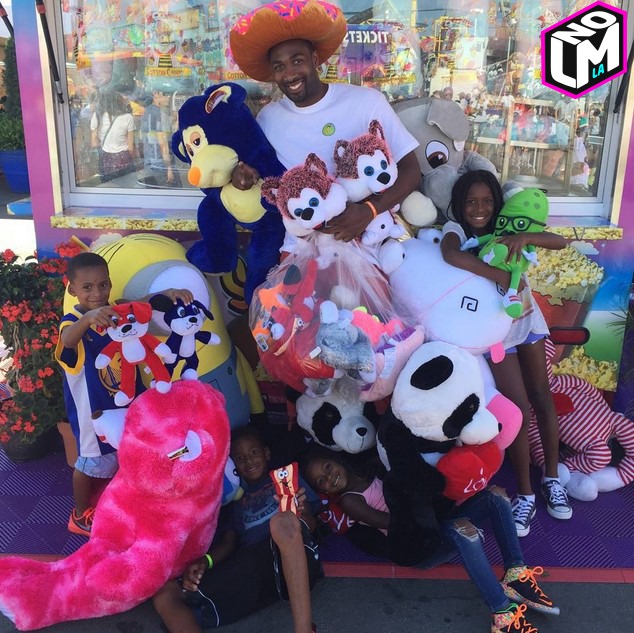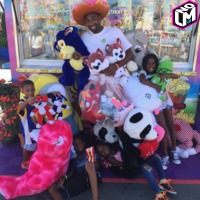 This is kinda like Superman competing in the Long Jump.
Gilbert Arenas let the world know that Agent Zero's still got it, and "Hibachi" is still hot and cookin. The former NBA player and 3 time All-Star had to show off his wrist and daddy skills by posting a pic to instagram with 4 of his kids and the caption, "We just got banned from all the basketball hoops at #orangecountyfair"?every one screamed #theRimsarebent I screamed #hibachi "?#ArenasFamily #CountyFairRockstars"
And just to prove the urgency by which those at the Orange County Fair had to shut down his rambunctious rage on the rim, the pic included his kids and their arm fulls of stuffed animal prizes. Now we all know about the disparity between the price of midway games and their collected prizes. So judging by the looks of it, a booty of such magnitude (no khloe kardashian) would normally cost most dads thousands to even get to such a goal with such huge prizes. But with Gilbert at the line, we're sure it cost him only $5.99
But ultimately, we're not really sure if he was actually escorted off the premises or if Gilly the Dad is just over hyping for Instagram, as OC Fair Spokersperson Robin Wachner gave the following statement about the pic on Social Media:
"It"'s unclear whether Arenas was actually banned or was simply making a joke". Wachner said she had not heard of anyone being barred from playing a carnival game. "In past years, the fair has allowed attendees to win significant hauls. In 2013, Costa Mesa resident "Machine-gun Sonny" Mergenthaler won two mountain bikes a night at the BB gun shooting game, often giving his prizes away. The fair allowed him to keep coming back, but the game limited contestants to two bikes per night."
Now the big question is, will winning all these prizes get him a slot back in the NBA ?
Or will he choose to remain the most dominant player the OC has ever seen ??
Photo: Instagram
Writer: Sid West, @lmnotweets (Twitter), lmnogram (Instagram), lmnola.com (Website)