Posted on
LMNOLA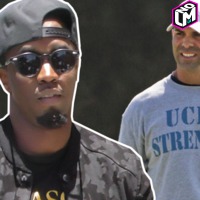 Man, you thought your parents were embarrassing when they cheered loudly at your Little League games. Try having your dad show up at your college training facility. And then allegedly assaulting one of your coaches. And then throwing a kettle bell at an intern (allegedly) Oh, and your dad is fashion/music mogul P. Diddy.
That's just what happened to Diddy's son, Justin Combs, before the cops showed up at UCLA and arrested his dad. According to an article onScout with all the juicy details of the arrest, Diddy was pissed that Combs had been cut from the team's strength and conditioning session that morning. He decided to take matters into his own hands and talk to coach Sal Alosi directly, and the rest is history. Diddy, who attends the team's practices once a week, is now being charged with three counts of assault with a deadly weapon, one count of making terrorist threats, and one count of battery.
But before you run off thinking that coach Sal Alosi is a saint, know that the guy's had his own share of bad press back in the day. In 2010 he was suspended and fined $25Gs for tripping a Miami Dolphins cornerback Nolan Carroll:
So far Diddy is claiming self-defense in response to the charges. No word yet if Alosi smelled like Sean John 3 AM when Diddy took his first swing.
Check out the full details on Scout. It's basically as close to a play-by-play as we'll get of Diddy losing his shit.
Photo: Twitter
Writer: Storm Asterella, @chaiandsass (Twitter), chaiandsass (Instagram)