Posted on
LMNOLA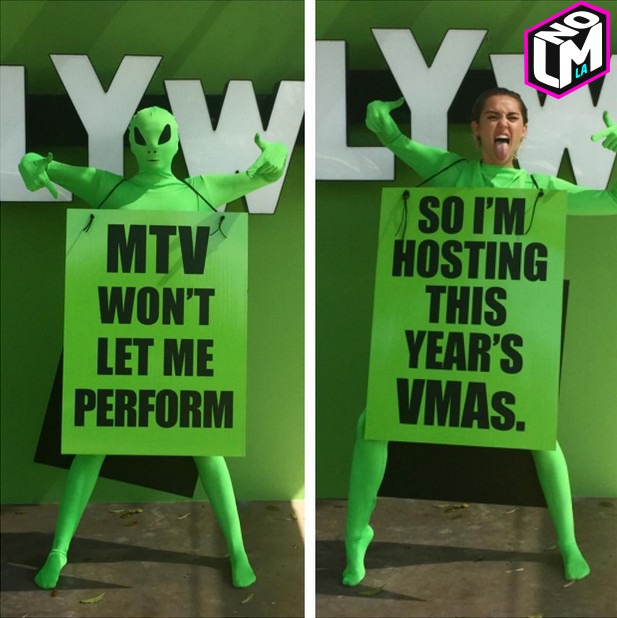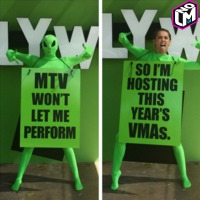 The most infamous figure of the MTV Video Music Awards in recent years, Miley Cyrus just made the announcement to cause MTV and the FCC to get their five-second-delay trigger fingers ready.
Hannah Montana's child prodigy posted on her Instagram a pic of (presumably) herself wearing a sign that reads "MTV Won't Let Me Perform, So I'm Hosting This Year's VMAs." The "Wrecking Ball" singer included the caption, "F**k yeah VMAs!!!!! #VMAs on @MTV Aug 30 at 9pm." She was outfitted in all green so don't be surprised if it's all green screen action for the promo.
Recent years of the popular VMAs has seen its fair share of Miley fodder. Her most infamous appearance yet was her performance with Robin Thicke in which she aggressively twerked. It was easily one of the most talked about performances of all time, and arguably one that triggered Robin's divorce from then-wife Paula Patton. The following year, we saw Miley accept an award for Video of the Year for "Wrecking Ball," when she brought her friend Jesse Helt on stage in an attempt to bring awareness to homelessness.
The 2015 MTV Video Music Awards will be airing on MTV Sunday August 30th at 9pm and filmed live from Los Angreles at Microsoft Theater, formerly L.A. Live's Nokia Theater. And with Miley at the helm, we can be sure to expect the most heinously unexpected.
Photo/Writer: Sid West, @lmnotweets (Twitter), lmnogram (Instagram), lmnola.com (Website)