Posted on
LMNOLA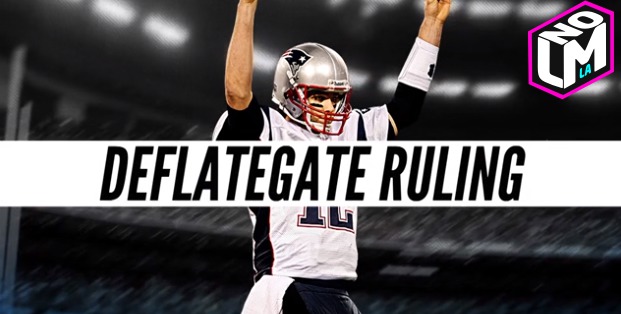 The way things are looking… things arent lookin good for Tom Brady.
The NFL has upheld their original penalty of a 4 game suspension for Tom Brady's first games of the 2015 season.
The New England Patriots Quarterback has attempted, to his best legal strengths to reverse this ruling. However, it has been reported today that the League has decided to uphold their ruling. They have cited that their main issue with Brady at this point is the fact that he had his cell phone destroyed on or before March 6th,.. which just so happened to be the day he met with Independent Investigator Ted Wells, who had requested text messages and other electronic information stored on the now non-existent phone. However, Brady and his Legal Team did not disclose this information until June 18th, over 3 months after the request. It is believed that Brady exchanged some 10,000 text messages during the 4 month period he had this phone, all of which the NFL no longer has access to. Hint* you can hit up cell phone companies for old text messages.
At this hearing, Tom testified that it is his common practice to have his cell phone and all sim cards destroyed whenever he uses a new cell phone.. which just so happened to be around that March 6th date as well. Such a coinkidink.
Adding insult to injury, it is also rumored that the league was willing to compromise, bringing the penalty down to only a 1 game suspension… but supposedly Tom & the Patriots had wanted the entire suspension overturned as well as keeping the records sealed, and the NFL wasn't happening.
The NFL is Hellbent on making sure Tom Brady acknowledges his wrongdoing, as Commissioner Roger Gooddell, having said the "closest parallel" would be a first violation for performance-enhancing drugs since both seek "competitive advantage,"
So sadly, the Commish believes Tom not only knew and supported "Deflategate", but their recent decision is also based on what appears to be Brady covering up evidence… while also wanting to make sure the World thinks he's completely innocent. Seems pretty darn sketch.
Another reason why Tom so desperately wants to stay in the game… He makes about $450,000 per game, totaling $1.9 Million in lost income. He can afford it though. And his legal team, the National Footbal League Players Association and the Patriots are in full support of an appeal (money involved).
Well… all we gotta say is, it doesn't look good if everything is what they say it is. But what does look good for Tom Brady ??
He's still married to Giselle Bündchen. So he's still a Winner.
Photo: Twitter
Writer: Sid West, @lmnotweets (Twitter), lmnogram (Instagram), lmnola.com (Website)